Service Information
Exhibition Service
Tepia operates TEPIA Advanced Technology Gallery on the first and second floor where we introduce Japanese advanced technologies related to the important issues in our society in a comprehensive way to the public. (admission free)
For foreign guests, an audio guide system is introduced and you can see the exhibition description with sound in multiple languages (English, Thai, Indonesian and Vietnamese)
Standing Exhibition
Out exhibition space mainly consists of four zones: "Technology Pathway" focusing on AI and IoT; "Technology Showcase" which introduces technologies to solve 3 social issues which are aging of society, population decline, and increasing number of regional inequalities. This zone also present hands-on exhibits which guests can feel future life. "Programming Experience Area" which enables the youth to feel familiar with computer programming and "Technology lab" where we hold theater as well as exhibiting robots and VR technologies.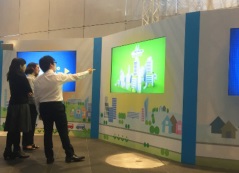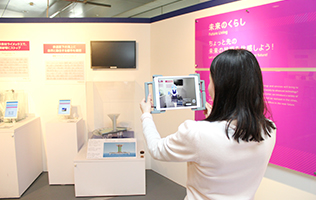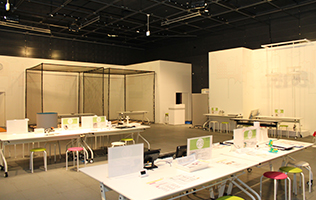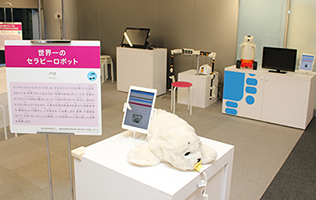 Events
Tepia holds events and special exhibitions related to the latest technologies and current topic in summer vacation.
Hi-tech Information Services
TEPIA collects and produces videos about high technology of machinery and information industries, providing services of video distribution and screening. (Free Viewing, Japanese Language Only)
Collecting and Producing of Videos & Digital Contents
We collect videos related to machinery and information industries in cooperation with various organizations, produce documentary films of lecture presentations and exhibitions under our sponsorship or self-made films, and open them to the public.

Internet Distribution
Hi-tech videos collected or produced by TEPIA are distributed from a website (managed by TEPIA) through the internet, so they can be watched anytime, anywhere.
Theater (35 seats)
Videos stored in TEPIA can be enjoyed on 110 inches screen.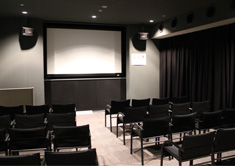 Services on Information Literacy Education
Robotics technology is anticipated its future activities in society, and 3D printing technology is expected to have a possibility to bring about a revolution in various situations of manufacturing. TEPIA holds an orientation class on these technologies for beginners, especially for children to have them take an interest in manufacturing and future society as a first step in leaning them. (Admission Free, By Appointment Only, For 1st Graders or More)